At Citizens Advice we're seeing more people than ever before who need help with an issue related to PIP. Nationally, just under half a million people are waiting for a review of their PIP award.
"Rising levels of ill-health in the UK combined with increasing cost of living pressures mean record numbers of people are applying for Personal Independence Payment. More applications for the benefit mean greater demand for health assessments to determine new claimants' eligibility and review existing claimant's awards. But challenges recruiting and training staff mean the DWP is simply not keeping up, leading to a growing backlog of people who are waiting for a health assessment."
Read more in our Citizens Advice national report.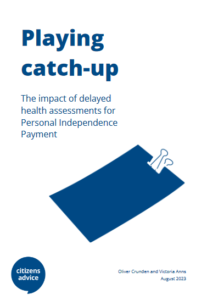 ---
Need help with a range of everyday issues such as benefits, housing, employment, family, debts, consumer, etc? Contact us for free advice.
---
Citizens Advice South West Surrey CONTACT DETAILS
Call Adviceline (free) to speak to an Adviser:
Guildford and Ash 0808 278 7888
Leave online message
Office opening details
And for other topics, check-out our online advice about benefits, money and debt, housing, consumer issues, work problems, and relationships.