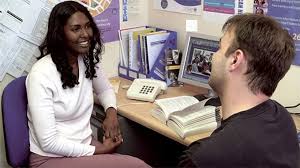 For many the uncertainty brought about by the spread of the pandemic has led to depression and anxiety about how they will survive financially in the months to come.
While coronavirus and redundancy scored the most hits on our National Website in the early days of the pandemic, debt is now a concern for a growing number of people.
One example was Joe*. He was a young man who lived alone in private rented accommodation. He had no family close by. He had not seen work colleagues to chat to for a long time and his personal friends were key workers in relatively safe full time occupations – Joe didn't feel he had much in common with them at present and didn't want to talk to them about his difficulties.
In March Joe had worked from home and then had been furloughed. Now he faced redundancy. When he had been working, Joe spent most of his money on rent and some basic furniture, so he had no savings to speak of. He'd been trying to keep up the payments on his rent but had started to fall behind with other bills and it would only be a matter of time before he couldn't afford the rent either.
 Joe was getting very anxious and depressed about his situation. He didn't know who to ask so he turned to his phone and typed in 'HELP WITH DEBT'. Citizens Advice was one of the organisations listed– he'd heard of them – seen them giving interviews on TV.
Joe clicked onto Citizens Advice website and found:
collecting information about your debts,
check if you have to pay the debt,
work out which debts you have to deal with first,
contacting creditors – with template letters to help
check if you can increase your income,
reduce your regular living costs,
check your options for getting out of debt,
make a plan to pay your debts.
Joe was getting more optimistic by the minute! He could read this and follow the steps for himself and he could speak to an adviser as well if he needed to.
He got all his paperwork together and contacted his creditors. He was surprised to find that his creditors were pleased that he had contacted them and explained his problems at an early stage. He said that he was preparing a budget and intended to check with Citizens Advice that he had done everything correctly and could go ahead and agree a repayment plan which was affordable.
How our advisers helped Joe
Joe looked up his local Citizens Advice website and was pleased to find that he could make a phone call to an adviser for free, impartial, confidential advice. He explained what he had done, asked if there was anything he had missed in his budget. The adviser ran through the checklist with him and ensured that he was receiving his full benefit and redundancy entitlement, then together they worked out Joe's repayment plan.
Like many others, Joe felt relieved and less stressed after using Citizens Advice.
*Name has been changed to preserve client confidentiality
Contact Citizens Advice Waverley