Food banks are community organisations that can help if you can't afford the food you need. You'll usually need to get a referral to a food bank before you can use it. Read more at our national site about using a food bank, including:
Getting a referral
Going to a food bank
If you need to use the food bank again
In Waverley, here's the situation about food banks: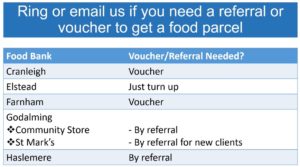 For free and confidential advice about your individual circumstances, contact us today.
---
Citizens Advice Waverley CONTACT DETAILS
Call Adviceline 0808 278 7980 (free) to speak to an Adviser
Leave online message
Office opening details.
And for other topics, check-out our online advice about consumer issues, work problems, benefits, debts and housing issues.