Congratulations to our domestic abuse service – South West Surrey Domestic Abuse Outreach Service – an award winning team!
The team has just won 'Team of the Year' at the National Citizens Advice Annual Conference Awards 2021. This was the most nominated category in this year's awards and the team was absolutely delighted to be nominated.
The judging panel was made up of area experts from across local and national Citizens Advice and chaired by Executive Director of Operations Michele Shambrook. Below is a quote from the judging panel on Friday 12th November.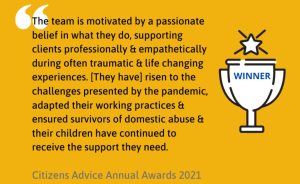 As one of only two Citizens Advice services in the country to host a specialist domestic abuse service, this places Citizens Advice Waverley in a prime position to provide an integrated service assisting clients affected by domestic abuse alongside additional support provided by our Citizens Advice team.
Read more about our domestic abuse service here and at their website www.swsda.org.uk/