As inflation rises and interest rates reach levels not seen since the crash of 2008, there are few of us who can escape the current cost of living crisis; but for some of the most vulnerable, the 'Mental Health Premium' – as Citizens Advice has called it – is having an even greater impact.
Our research (The Mental Health Premium Report, March 2019) has found that, where poor mental health affects someone's ability to carry out daily activities, they can incur extra costs of between £1,100 – £1,550 per year, due to inadequate support in accessing essential goods and services. If, for example, you have difficulty making decisions under pressure or a reluctance to communicate, you could miss out on the best deals available, or fail to negotiate a suitable – and more cost effective – method of payment.
To their credit, essential service providers are becoming more aware of the difficulties vulnerable people can face and are making provisions. Ofgem, for example, the energy sector regulator, has created a Priority Register to make things easier for a whole range of people in challenging circumstances, including those struggling with their mental health, and energy providers have been happy to sign up to this.
The problems occur when people are unaware that help is available, and this is where Citizens Advice can provide valuable advocacy in informing vulnerable clients and signposting them to schemes and processes designed to make things easier for them.
Take Linda for example
Linda has been diagnosed with extreme anxiety and depression, and frequently finds managing her day-to-day life overwhelming. She particularly struggles with paperwork and often leaves her post unopened for days or even weeks. She came into her local Citizens Advice because she had received notification that her dual energy bill was going to increase by £100 per month and she had no idea how she was going to afford it. She was terrified, she said, of strangers forcing their way into her home to install a prepayment meter or finding herself cut off and in darkness.
Our adviser explained that she was eligible to be on the Priority Register. He pointed out where she could find the relevant information on the literature accompanying her bill, but, of course, Linda would never have seen it, as her bills cause her great stress, and she is unable to read and understand them correctly. He explained that, if she were on the Register, her energy company would be obliged to take particular care of her.  She would never be forced to have a pre-payment meter, never be visited at home without prior warning and, where possible, she would be informed in advance of problems with her supply, such as power cuts. He reassured her that he would help her to get on that Register. Her adviser also explained how to take meter readings and asked Linda to bring them in so he could submit them for her. It turned out that her account was actually in credit and that her monthly payment didn't need to increase at all for the time being.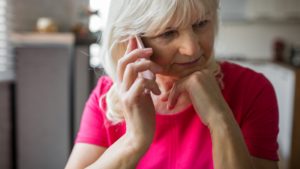 ---
Help may be available for you too. If you need help to find out and access that help, why not call Citizens Advice or pop in to talk to us.
---
Citizens Advice South West Surrey CONTACT DETAILS
Call Adviceline (free) to speak to an Adviser:
Guildford and Ash 0808 278 7888
Leave online message
Self help – search our national site by topic
Visit us (office opening details)
---
Citizens Advice Mole Valley contact details:
Both Dorking and Leatherhead Citizens Advice offices are currently open for appointments, please either telephone our adviceline 0800 144 8848 or email leatherhead@camv.org.uk / dorking@camv.org.uk
Contact East Surrey Domestic Abuse Services on 01737 771350 or email: support@esdas.org.uk
Surrey Domestic Abuse 9am-9pm Helpline – 01483 776822
In an emergency always dial 999
---
Citizens Advice Reigate and Banstead contact details:
Phone Adviceline: 0808 278 7945 (free) to speak to an adviser (Monday – Friday 9.00 – 16.00)
Email: Use an enquiry form
Self help (website)
---
South West Surrey Domestic Abuse Service (independent charity since 1 April 2023) contact details: 
Tel 01483 898884, Email swr@swsda.org.uk
Visit their website