Citizens Advice Waverley and Citizens Advice Guildford & Ash are pleased to announce that they have merged and become Citizens Advice South West Surrey. At the same time, Citizens Advice Waverley's South West Surrey Domestic Abuse Service has become an independent charity.
Both new organisations will continue to work in close co-operation, ensuring that referrals are made across both services to support clients within the boroughs of Waverley and Guildford.
Advice Service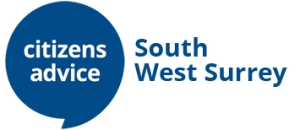 Citizens Advice Waverley and Citizens Advice Guildford & Ash worked with an independent expert to look at the potential opportunities and challenges that a merged information and advice service might face, and from this felt that it would be in the best interests of local residents to come together as a single organisation. In particular:
Our clients need us now more than ever, while at the same time the funding environment is challenging. A larger, stronger organisation would enable us to secure funding from additional sources in the future, as well as strengthen existing partnerships to secure the service for our clients.
Both existing charities have different strengths in service delivery, and it was felt that by learning from each other we'd be able to develop an even stronger service for our clients.
Through becoming a larger organisation there will be opportunities to have a more influential voice for local people and become a better partner for key stakeholders.
Improving opportunities for current and future volunteers and staff through areas like specialising, deepening expertise, and opportunities for development. This will also mean improved services for clients.
We would like to reassure people that they will be able to access the Service as they did before and we will be there to support them for advice and information.

Adviceline contact by phone (free) will continue to be:
Tel: 0808 278 7888 for those living in Guildford and Ash

Tel: 0808 278 7980 for those in Waverley
All the offices and outreaches will be open as they are now and you can check opening times, access the on-line message (e-mail) enquiry form and get self-help here.
---
Domestic Abuse Service – now an independent charity


The Domestic Abuse Service within Citizens Advice Waverley has grown in capacity and service development and now is the right time to pursue its own specialist mission, actively continuing its work with the Surrey Domestic Abuse Partnership and its commitments under the Women's Aid National Quality Standards.
South West Surrey Domestic Abuse Service has become its own independent charity whilst still retaining a close partnership with Citizens Advice South West Surrey.
Contact details:
Tel: 01483 898884 (Monday-Friday 9am-4pm)
Visit the Website

---